Cultural Camp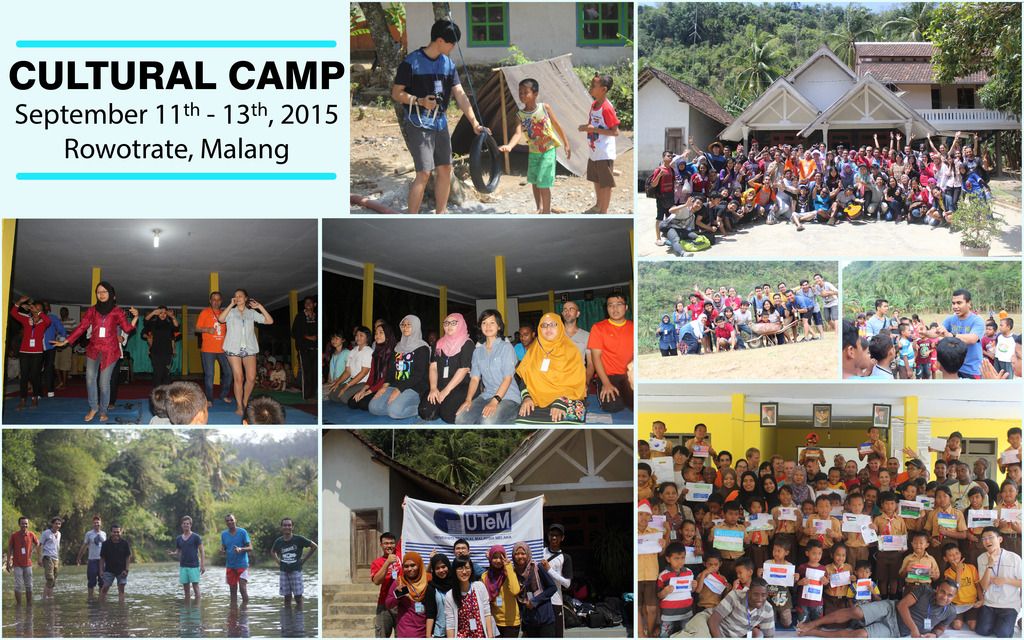 The beginning of a new semester, 38 ITS International Students and 42 ITS Indonesian Students consist of ITS Students Club (well known as UKM (Unit Kegiatan Mahasiswa) and International Office Volunteers went to rural village `, Malang, East Java – Indonesia to experience a real Indonesian life for 3 days. There were 5 Students Club joining this camp, Paduan Suara Mahasiswa (Choir),Tiyang Alit (Drama Theater), Perisai Diri (Martial Arts), Cinta Rebana (Tambourine Club), and UKTK (Indonesia Tradisional Arts).
Gathered at Rectorate, Friday, 11 September 2015, 6 A.M. and took 3 buses for 5 hours to arrive to the destination was worth to do because the beauty, peacefullness, and cleanliness of the village, although its far away from nowhere. The first agenda after arriving was matching homestay between villagers, International students, and ITS students, then having lunch and resting in each homestay. The Opening of this camp began at 6.30 P.M. located at Village Hall. All Students Club must perform each of their club activitiy for 12 minutes and the International students should choose one of the club which they are interested. Students Club and each of their International students then had practice for 90 minutes before going to rest. That was the end of the first day of Cultural Camp.
In the beginning of the next day, there was a photo competition among each homestay. The theme of the competition was 'My Intercultural Family', which means that each homestay consisted of the villagers family, international students, and Indonesian students, must submit their most attractive picture that represent their new intercultural family to the committee. After having breakfast at 9 A.M., the international students and each of their chosen club were having another 2 hours practice to prepare for tonight's main event. In the midday, the international students were having social responsibility program with Rowoterate's elementary school students. The event was being held at Village Hall. Each of the international students making a group with 1 until 2 elementary students and were challenged to make their own international flag in a piece of paper together. Although the result were blurry and imperfect flags, both international and elementary students seemed to enjoy. Elementary students learned to engage and speak with international people, they will learn not to be afraid or ashamed to meet foreign people. While international students also had a great time on guiding the kids to draw their national flags, full of affection and smiles. After having short-time rest and lunch, the international students and each of the students clubs practiced for another 2 online casino hours. The afternoon was ended with a little gymnastic exercises lead by the mothers of Rowoterate called SENAM MADEP MANTEB and fun sports between international students versus villagers which are volleyball and soccer game. Another games were tarik tambang, marble race, and eat crackers. It was one exhausting yet memorable afternoon for both international students and villagers. We were playing against each other but we were enjoying the games. The second day of this camp was ended with international students performing the result of their practice within this two days. All the villagers were excited seeing how their cultures and arts performed by foreign people. Beautiful colourfull fireworks wrapped up the night amazingly. The night never dies, thats why Rowoterate's young people prepared bonfire, grilled corn, and grilled fish for all the participants and committee. We were singing along with the guitar under starry sky and it was already 11 P.M., time to get rest.
Last day of the camp, after cleaning and packing up the things, saying goodbye to their new family was the hardest past. They were giving the result of photo competition in a frame for each family at their homestay so the family will always remember the last 3 days. Before heading back to Suraabaya using bus, all the participants and the committee stopped by at Goa Cina beach for 3 hours for enjoying southern Malang beach.