MBDA Scholarship Program ISAE SUPAERO Master in Aerospace Engineering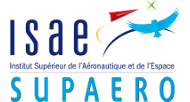 Dear ITS Students,
Insitut Francais Indonesia offered a scholarships "MBDA Program ISAE SUPAERO" for Master's Program in Aerospace Engineering. This program can also be applied by final semester students who will complete the thesis, maximum July 2018.
Required degrees for the ISAE Master in Aerospace Engineering.
Bachelor's degree

, or the equivalent, in the following fields: mechanical engineering, mechatronics, aerospace, electronics, electrical systems, telecommunications, etc.

or French licence

in Science and Engineering.
Students holding a degree in mathematics or physics may also apply.
Admissions process for MSc Aeronautical Engineering program
To apply: https://inscriptions.isae.fr
Reminder : the "online" application file should include:
a resume,

a cover letter,

a copy of your highest diploma or certificate of enrollment,

transcripts for the 3 last years,

English test results (TOEFF IBT (Inst.Code : 9820) or TOEIC or IELTS or CAE Cambridge),

GRE test results if taken (not mandatory)

application fee of €75.
2 letters of recommendation sent directly by professors to lor-masters@isae-supaero.fr
Documents have to be officially translated in French or English.
You can apply to the MBDA scholarship once you have validated your application to the MSc Aerospace Engineering.
Application deadline: December 11, 2017 Results: in February 2018
Online application for 2018-2019 will start on October 16th 2017 !
For more inquiries: https://www.isae-supaero.fr/en/academics/master-s-degree-msc/practical-information/
Contact : info-masters@isae.fr